We look for B2B partners across UK and Ireland.
Become an Authorised Komandor Agent
What is an Authorised Komandor Agent?
An Authorised Komandor Sales Agent is you. It is your business supplying and/or manufacturing fitted furniture and sliding door systems to private customers and commercial clients. You are the face of the Komandor brand.
What type of business is Komandor?
Komandor is not a lifestyle business. It is an entrepreneurial partnership for those with a true understanding of setting up and growing a business.
Who is the perfect Komandor partner?
Komandor welcome those with drive and vision, often working in a small team; husbands and wives, graphic / interior designers or friends in partnership with complementing skills such as design and sales. Komandor partners are problem solvers, logistical wizards and great with people.
What is needed to set up as a Komandor Authorised Agent?
To be a Komandor Authorised Agent you will require capital. This is a start-up business. A showroom is preferable so you can display and offer a wide range of our products, helping customers imagine Komandor systems and accessories in their own homes.
You must have a good understanding of design technology; Komandor works on its own CAD based design program. An installation team is also needed – fitters, a vehicle and the correct tools.
Own display equipped with materials necessary to present the entire scope of the company's range such as a display case, material samples, and catalogues
PARTNERSHIP OUTLINE IN THE AUTHORISED AGENT MODEL
YOUR FINANCIAL CONTRIBUTION
Business consulting
KNOW HOW
Tools
Marketing support
Industrial Design
Komandor Group
membership
Service
TRAINING
Product training
Distribution training
Installation training
Software
Consulting
Authorised
Agent -
Ongoing
support for
group
members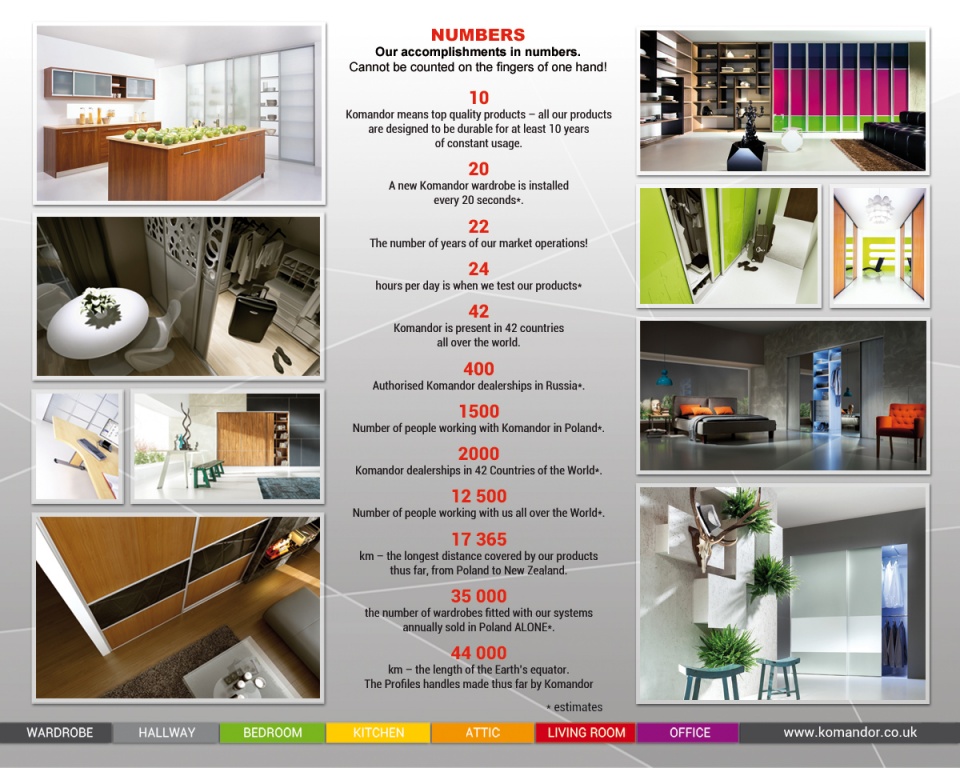 ---