Sep 30, 2023
0 comment

Admin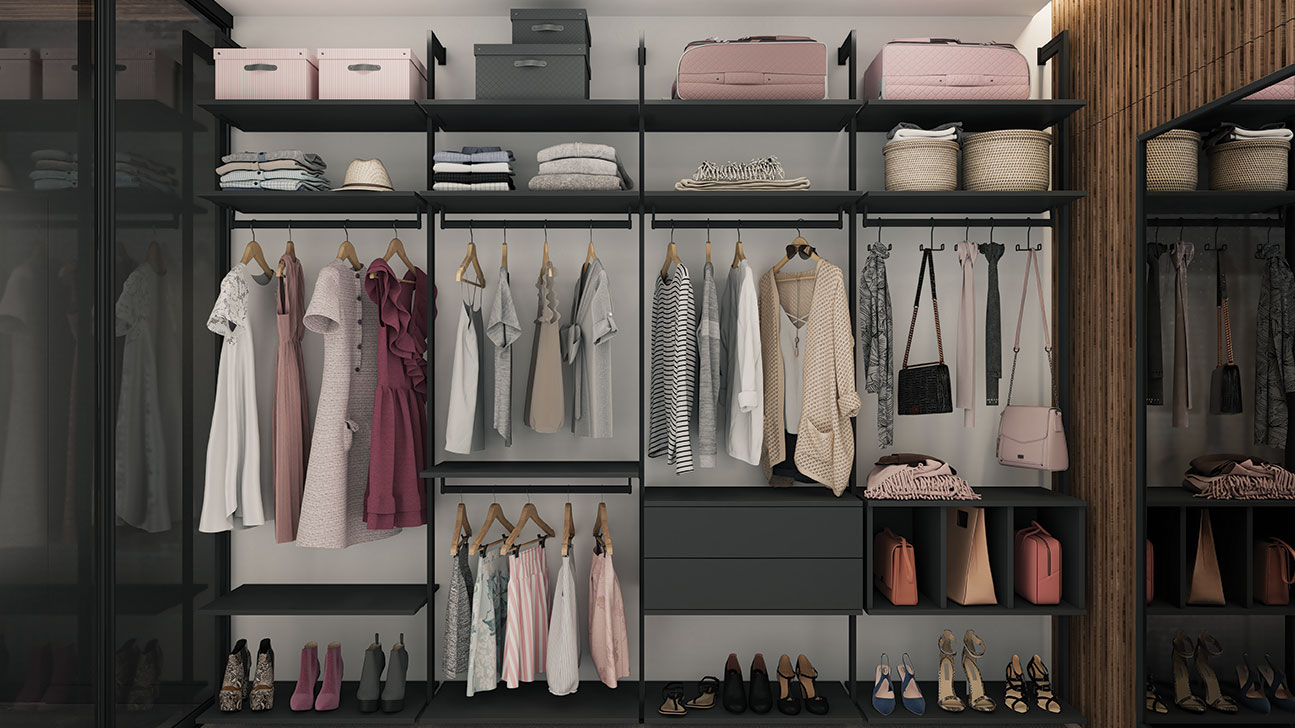 While the manufacture of built-in furniture and open racks we propose to use constructions assembled with aluminum profiles Komandor Column or Komandor Orto instead of using traditional shelving, made of chipboard. These systems are related to wardrobe-type constructions and have a wide scope of application. They are suitable for the manufacture of the built-in wardrobes interior, furniture for living rooms, bedrooms, children's rooms, and study rooms. Komandor profile constructions are also widely used while furnishing shops and offices. Thanks to their excellent characteristics, wardrobe systems are gradually replacing traditional cabinet furniture.
Benefits of Wardrobe Systems
Wardrobe systems are designed not only to improve the furniture aesthetics. They are designed to facilitate the process of its exploitation. Dressing rooms, wardrobes and other constructions assembled from them have numerous important benefits:
accessibility of all the compartments - shelving do not have continuous vertical walls, that's why it is much easier to take and store things;
sustainability - for wardrobe systems, several methods of fixation have been developed, which allow you to firmly attach constructions to the wall, to reliably fix them between the ceiling and the floor or to make a shelving standing solely on the floor;
excellent illumination of the internal space - in Komandor column profiles there are grooves and light diffusers designed for installation of LED strips in any compartment;
universality - the systems are suitable for assembling linear and angular constructions that can be installed along the walls or in the middle of a room;
multiple-use - shelving made of aluminum profiles can be quickly disassembled and used elsewhere.
Wardrobe systems are suitable for exploitation both in open and in closed form. The furniture assembled from them is compatible with folding and sliding facades.
Constructive features of wardrobe systems
Shelving made of aluminum profiles can be complemented with shelves made of board materials or glass. There are special brackets for fixing which allow you to change the height at your desire. Shelving is compatible with the stand, equipped with sliding and folding facades, as well as with drawers. Such modules are usually installed in the lower zone of constructions; however, there are no fundamental restrictions on height.