We offer many types of bed in multiple design combinations and there are 90 colours to choose from. Komandor beds can be supplemented with bolsters made of panel, lacobel, glass with graphic or eco-leather. Each of our beds can be produced in single or double variants and can be paired with matching nightstands as well as mattresses and frames. On the majority of models, the stands are fixed in order to maintain tidiness under the bed and to facilitate easy cleaning.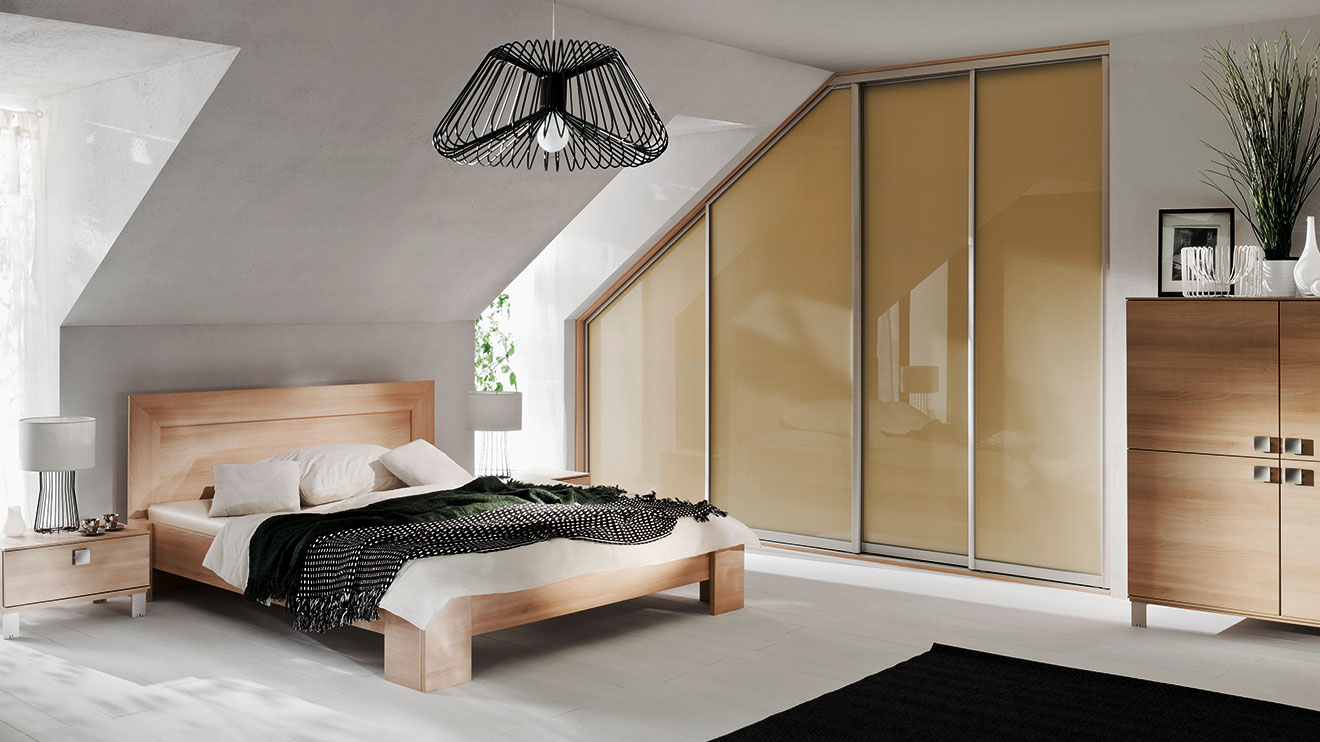 Some bed models are classic with slightly rounded edges, whilst other are more modern and have a simple, clean design very much following the current furniture trends. Our modern designs beds are award winning. The model, Dozen, won the 'Furniture Diamond' award in 2011.
Beds may be chosen alongside bespoke wardrobes, cupboards and accessories allowing you to design your own cosy and warm interior in your bespoke colours and style. 
Depending on your taste, the bed can be made of a full panel, with a long bolster, nightstand and shelf.
For an aesthetically and physically softer look and feel, we have introduced a model with its bolster made of eco-leather. Customers can choose from multiple colours in this material. Eco-leather would be a perfect solution for those who prefer cosy interiors with a touch of modern luxury.
A bed is best positioned along the wall or perpendicular to the door. However, due to the fact that all rooms are different, the best way is to set the bed in such place that maximises the floor space and allows you to move around easily.
Your bed is a very important piece of furniture. That is why its form and design cannot be too heavy. It should nurture good sleep and leave you feeling rested. Matched with our wardrobes and cupboards, the bedroom will boast an excellent set of furniture giving an overall feeling of comfort and calm.
The latest, recently extremely popular, idea is to fix safety glass (i.e. lacobel) in the bolster. Glass in bolsters can be installed in different ways, making your bolster a statement piece. Beds with glass inserts appear lighter and modern. Additionally, glass reflects light and colour, bathing the room in varying hues at different times of the day and night. 
Bedrooms should be arranged very carefully, taking all aspects into consideration. This is the place in which we start and end every day, so it is important to design it in such a way that you awake feeling fresh and rested after a good night's sleep.