Komandor's main aim is to provide our clients with the solutions to their space saving and storage problems. To do this we constantly evolve and improve our offering, adding practical and functional accessories to our range. Thanks to this, our wardrobes are more versatile and easier to organize than ever.
Shelves
We produce bespoke shelves adaptable to every need. We offer shelves of different length, width and depth. We use 18 mm or 28 mm board panels. In some cases we use sliding shelves with handles or with a lower positioning front. A solution especially recommended for walk-ins to increase storage for more bulky items like bedding and winter clothes.
Regular shelves made of board panel should be a maximum of one metre (when choosing an option without a lower shelf). This helps to avoid warping of board panel caused by too much weight on them.
Another important thing to consider is the depth. It is easier to store clothes in a horizontal row to enable easy access and minimize the need to reach for them. Also, the distance between the clothes shelves shouldn't be too wide as it is not very practical to arrange clothes into too high a pile. Our aim is to maximise storage space and avoid unnecessary empty spaces.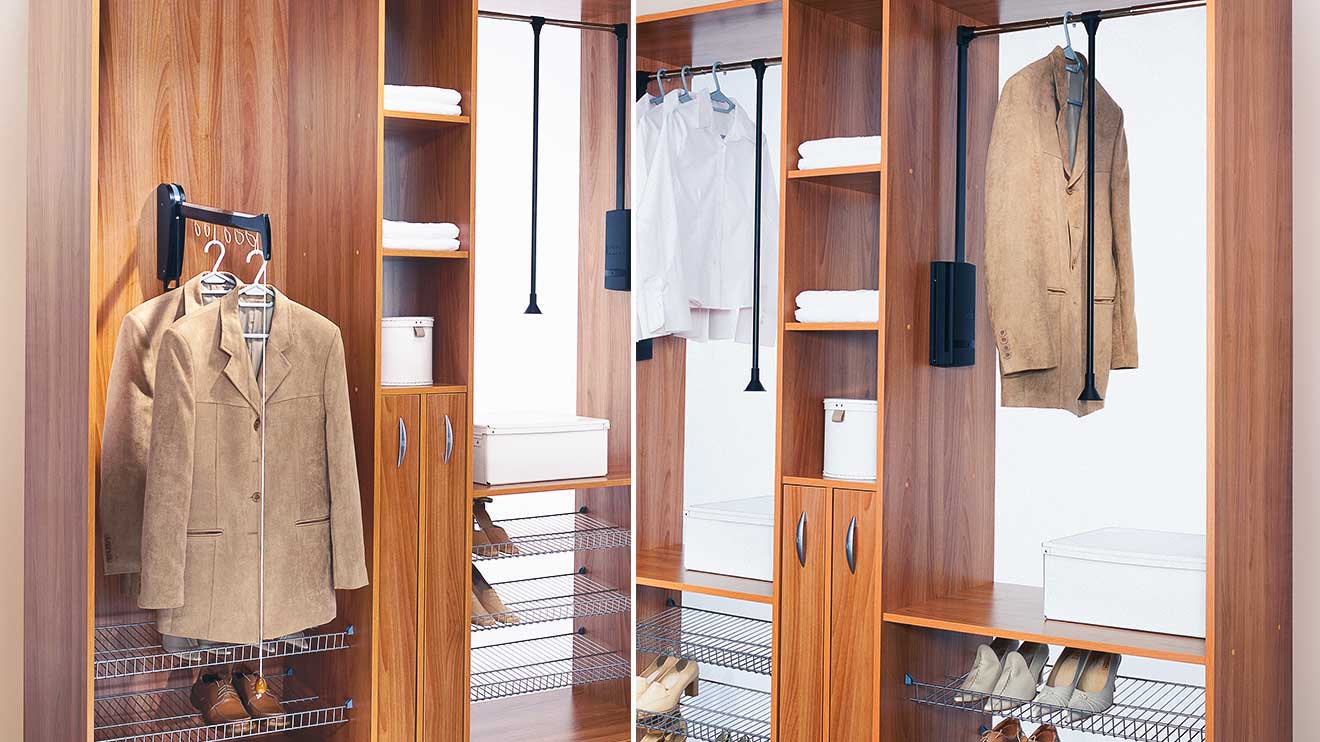 Rod
This clothes rod is essentially a metal tube which is usually attached to the sides of a wardrobe or to the outer walls. Due to the installation of two rows, one below another, we are able to optimise the interior space of the wardrobe. We can position the rods to any height to allow hanging of different length items from shirts to full length dresses. However, we like to ensure the rod is no longer than 100cm; which is the perfect length to support the weight of the contents of an average wardrobe.
Wire basket
Our versatile basket provides the perfect storage spot for bedding and towels. The design is transparent and aerated, so you can see what is kept there without the need to pull the basket out. Another advantage is that the open work design of the basket allows air to circulate, keeping your clothes fresh and aired. Baskets are available in colours: white, silver and chrome. They are available in multiple sizes which helpful when installing wardrobes and cloakrooms with different dimensions. The chrome basket can be fully pulled out and has a silent closer function.
Shoe holder (shoe trees)  
This clever accessory can hold as many as six pairs of shoes at the same time. The holder fully slides out, so you can view, choose and access your shoes freely. Shoe trees hold the shoes in their true shape, prolonging the life and good condition of the shoe. The installation of shoe trees is best placed in wardrobes where special occasion shoes are kept, as well as in hall spaces where shoes for day-to-day use are stored. They are not advised for walking boots, beach wear or sports shoes.

Belt hangers and tie hangers
This very practical piece of wardrobe equipment helps to arrange ties, belts and scarfs with less fuss and no tangling. The hanger is placed on the side walls of the wardrobe so it does not take up too much space and slides out to full length accommodating 11 ties and 6 belts. Our hanger colours come in black and chrome.
Crosswise hanger 
The crosswise hanger is recommended for wardrobes with a depth less than 50cm. It is fitted under the shelf and it fully slides out, which enables simple access to hanging clothes.

Trousers hanger 
This type of hanger is designed for trousers as well as the accessories such as belts and clothes brushes. The hanger comes in chrome, fully slides out and contains up to 8 pairs of trousers. It is additionally secured with 'gums' that prevent the clothes from sliding down on the floor. It can also be successfully used as a skirt hanger.

Shoe shelf 
Our open-work shoe shelf is perfect for walk-in closets where our shoes can be seasonally stored. This is another product from our collection which can be fully extended, enabling its user to access four pairs of shoes at a time. Shelves can be placed on different levels so that you can design your own space purely for your shoe collection.
Underwear Basket
This is a deep cloth laundry basket for either dirty laundry or already washed garments which are waiting to be ironed. The cloth lets the air move freely which is an excellent hygiene benefit. It can be easily removed in order to clean it. The Underwear Basket can be mounted in the wardrobe, cupboard or cloakroom of utility rooms.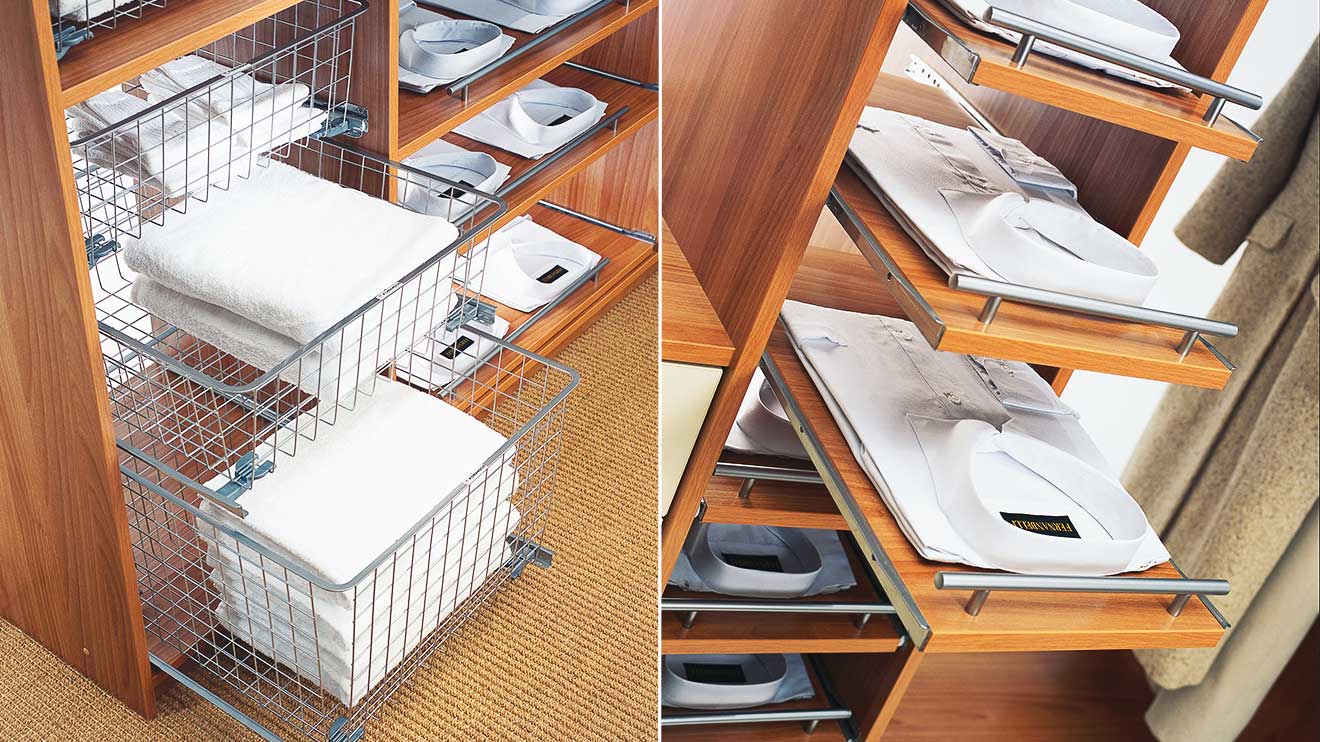 Pantograph
Pantograph allows simple and easy access to the clothes on hangers in the upper part of a wardrobe. Its special construction means you can lower it to the required height. Pantograph is a perfect solution for shorter people or less able bodied users who have difficulties in reaching high spaces.

Vertical drawer for ties and belts
The draw can fully slide out and consists of the tie rod and a double-sided compartment for belts. The drawer is quite narrow so its installation is possible even in the smallest wardrobe or cloakroom.
Drawers 
Drawers can be fitted in a block arrangement in the wardrobe or they can be installed one next to another. They can be of multiple sizes: height and width depends on a customer's individual needs. The choice can be made from a variety of sliders and handles. The most useful drawers are those with partial and full slide-out, with a brake, which ensures silent closing.
'Tipp-on' drawers are also available. These are opened by gently pressing their surface which allows them to silently release and slide out. However, 'Tipp-on' drawers do not have a brake for silent closing.
You should carefully consider which type of drawer gives you best access and the most ease of use. You can also consider installing an internal light, which is a good idea, especially if you have dark halls. After sliding the drawer out, light switches on automatically and there is no need to switch the main light on
Vacuum cleaner pipe holder and steam iron holder 
This is simply an amazing solution in cupboard storage design. The holders mean the cumbersome pipe stays in one place so it does not fall out when the wardrobe is opened. The iron holder is a good space-saver leaving shelves uncluttered with award shaped items.