There are many ideas and suggestions about how best to organize your living room space. As well as the mainstay items such as a TV set, sofa, display cabinet or bookshelf and coffee table, you could also introduce a wardrobe or a chest of drawers. A dominating element in such a space can have a striking effect especially if it of a bespoke design and is visually attractive. It can be matched with a chest of drawers, a TV display set and small tables in a similar style. It is not necessary for a wardrobe to occupy the whole wall area. It can be complemented by matching bookcases or shelves which will additionally give a feeling of lightness and cohesion to the whole structure.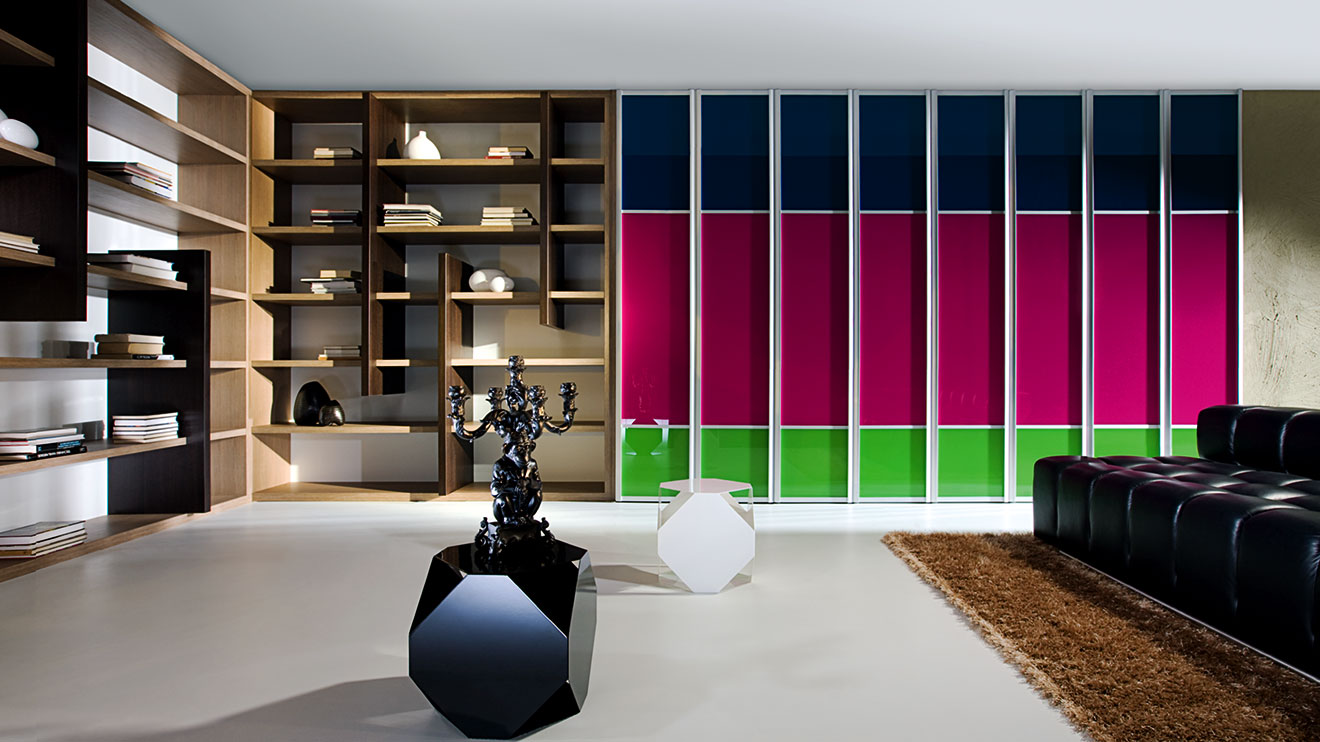 If a wardrobe in your living room is not for you, we offer bookcases designed in a special column system. If you are looking for openwork creation or you want to design a clear partition between walls, you can opt for our column system that fits to the ceiling. To make the structure even more attractive you can add in glass or board panel shelves.

A living room can be the biggest room in an apartment and we spend a lot of time in this room. Regardless of the size of a living room we can make it the best room in the house, reflecting the owner's tastes and personality. The design of your living room can strongly influence the perception of entire house or apartment so there are important design decisions to make for this room. It should also be a space where we can relax and spend time with family and friends so we really need to think about what kind of furniture we choose for it.
The most popular storage solution for living rooms is wardrobes with sliding doors in lacobel, graphic or sandy design. Glass surfaces make the room look more modern and the reflective colours and light give it a feeling of depth and warmth at any time of the day.
The wardrobe front can be made from board panels in a deep grain of wood and then combined with glass to give a beautiful, timeless and rich feel to the room.
Glass surfaces, thanks to their smoothness, perfectly match board panels.
For those who are looking for a more industrial look we suggest a combination of board panel with a laminated board in imitation concrete. This is a really different look and makes a real talking point. Perfect for loft apartments or very open plan, large spaces.