Komandor can help you design and organize your bedrooms with our wide range of beds, chest of drawers and bedside tables. Choosing all the furniture for your bedroom from one manufacturer ensures that you will achieve a complete look. The most important piece of furniture in bedroom is your bed and thanks to our wide choice of beds, we can guarantee a comfort and style.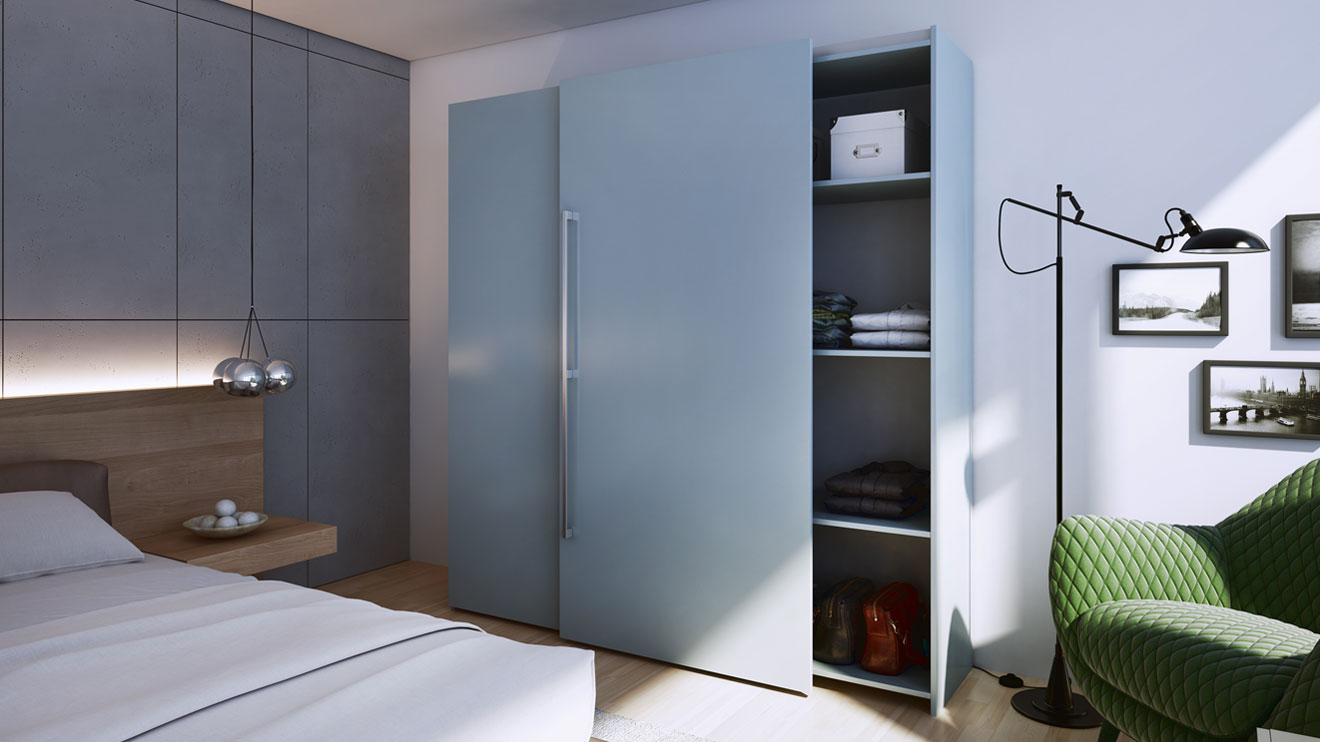 Maximising space in a bedroom is important and folding and sliding doors are essential in doing so. If you already have bedside tables and a chest of drawers, you do not need to fill your wardrobes with bed linen, towels, duvets, blankets etc. It can be used purely for clothes.
If you are an owner of a bigger bedroom, choosing partition doors or suspended doors can help you to create separate walk-in areas which will clearly divide your sleeping space and dressing space. It can help you achieve an interesting visual effect and substantially maximize your bedroom's functionality. The dressing space, fully organized with hanger rods, shelves and drawers, will serve as a storage space and will not encroach on your sleeping area.
A wardrobe in your bedroom can be installed in a recess, occupy the one wall in the whole room or be fitted in a corner. It all depends on the size of the room and the position of walls. The wardrobe's front should stylistically match the room design. In bedrooms, it is not recommended to use mirrored sliding doors. Such glass materials can intensify a feeling of mess when scattered objects are reflected back into the room and the space can feel smaller rather than larger.
We offer a wide variety of laminated board panels in different patterns and colours. Glossy acrylic panels and glass with a smooth surface can make a room look brighter. Other ideal and interesting choices for your wardrobes are eco materials such as rattan and bamboo.
A chest of drawers is a practical and often stylish addition to your room layout. Our chests of drawers are available in variety of sizes and they can be fitted with sliding doors or drawers.
Furniture in your bedroom should be minimal and practical but can also be statement pieces. We offer a wide range of insert materials in a variety of different colours and we can adapt them to different rooms. In small and dark interiors, walls should be brighter but furniture should be in darker shades. Such contrast will positively influence your room's appearance and it will accent the elements which need to stand out. Regardless of size or shape, we recommend using a maximum of 4 colours in any one room.